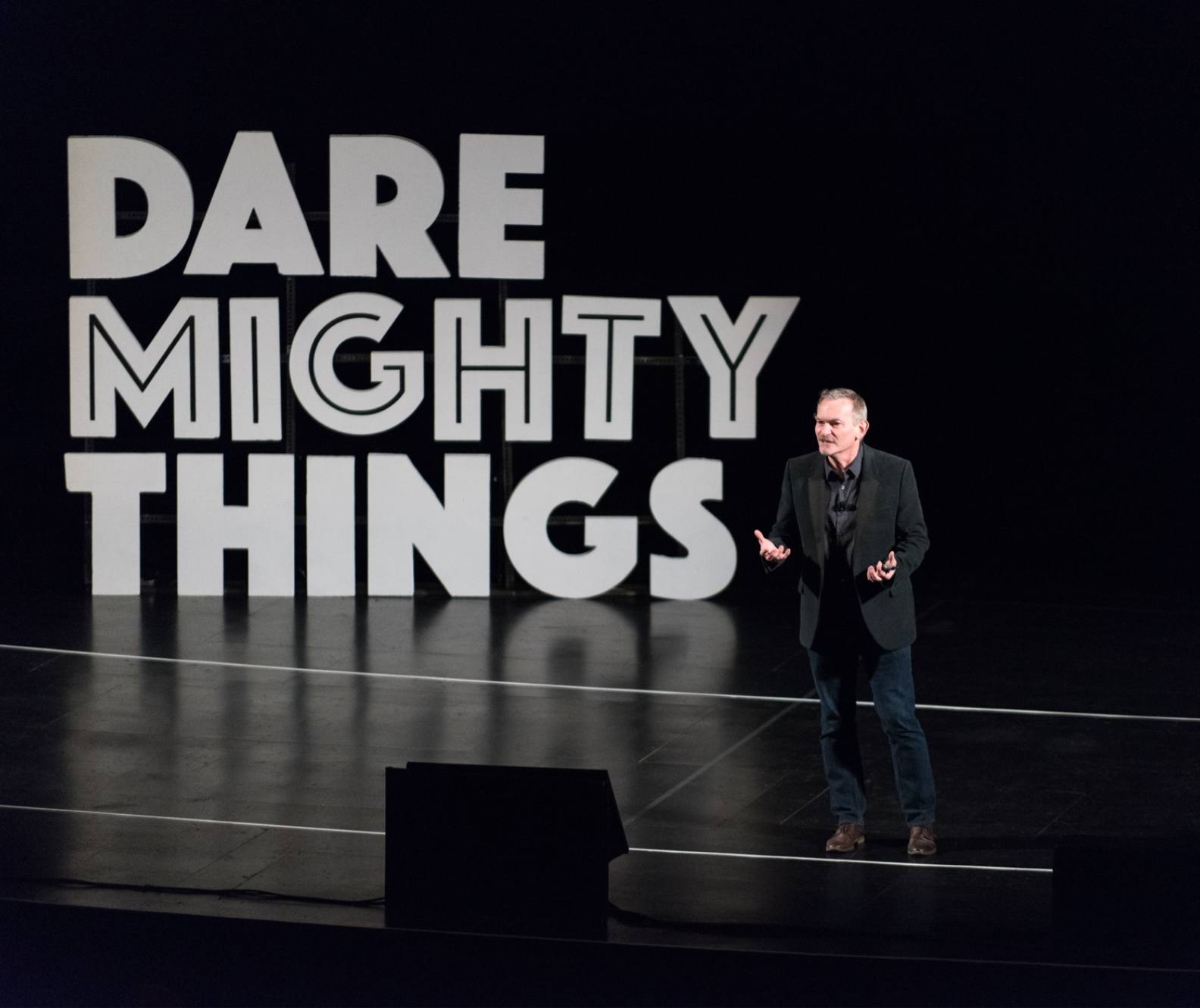 "....one of the
world's most inspiring
tech conferences."

--->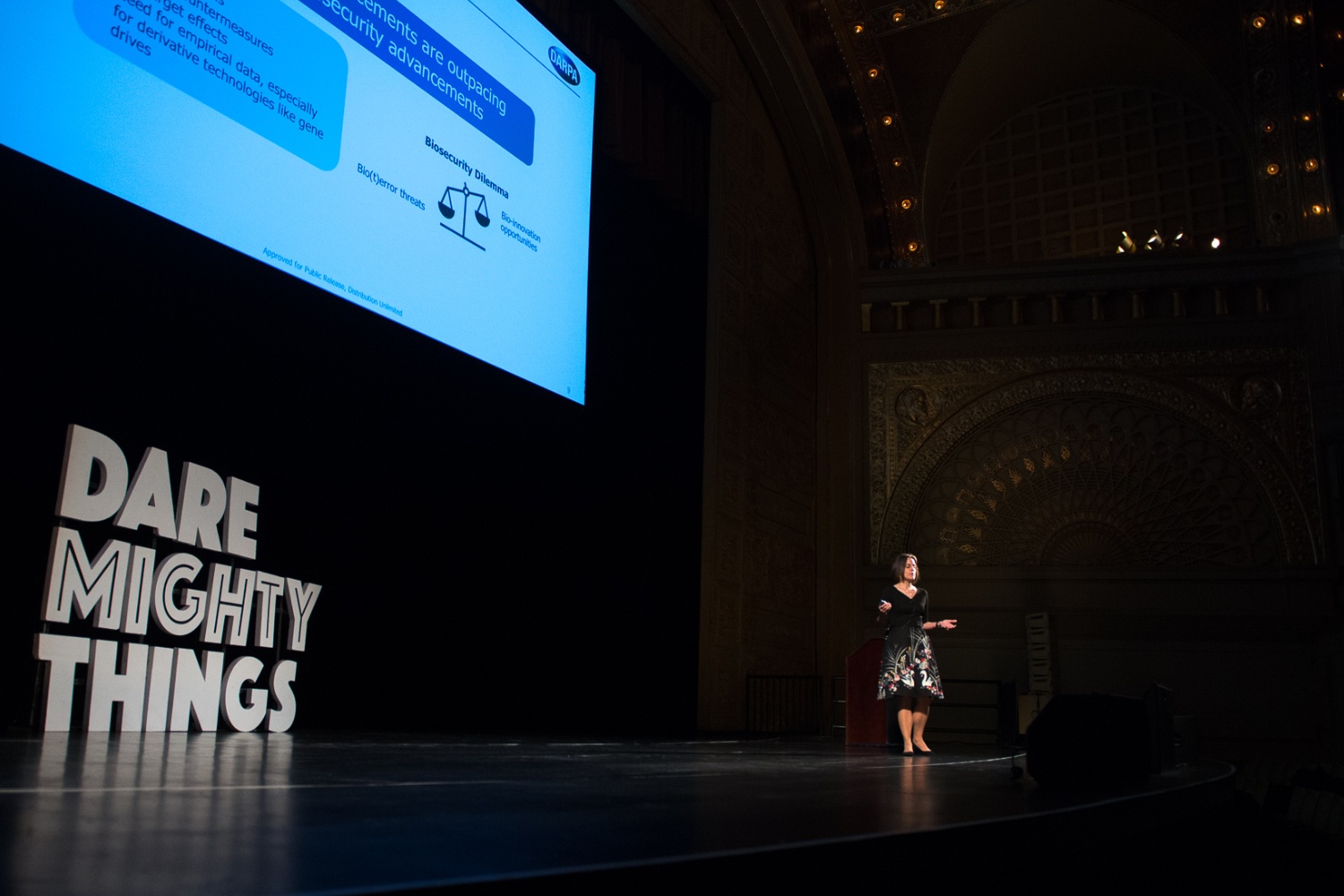 One of
"8 Top Tech Conferences You Can't Miss"


Sign up & get access to exclusive discounts & news

How do you get people
to do things they thought
weren't possible?
You show them examples of those who did the 'impossible'.
That is the purpose of Dare Mighty Things.
Join us Oct 29th in Chicago to hear 10 inspiring stories from the world's most influential innovators who never gave up.
1000 Tech executives, investors, developers, creatives & global media from 35+ cities - they'll all be here.
Where will you be?
Hit play. You'll love this :)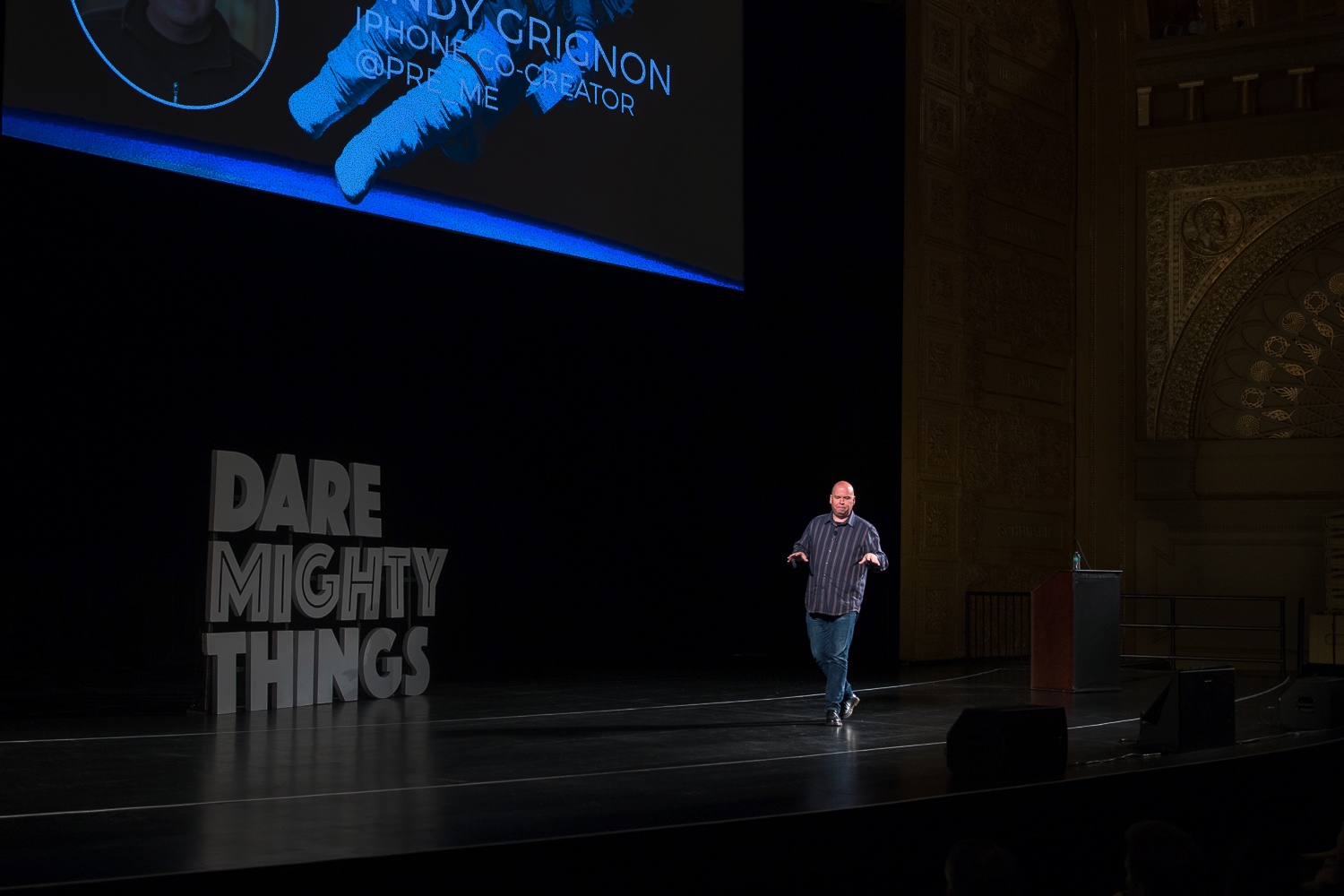 "I loved being part of it.
You could tell there was
something special in the air...

like everyone knew they were
part of something greater than themselves."

~ Andy Grignon
Helped Steve Jobs
Build The iPhone
These World Class Speakers Will Inspire You


What does it take to build the Hyperloop? A self driving car? Gene editing therapies?

These people took huge on challenges...and never gave up.

They Dare Mighty Things....and you can too.
Bobak Ferdowsi
NASA JPL
Bobak Ferdowsi
NASA Jet Propulsion Laboratory
NASA "Mohawk Guy"

---

Bobak is an American systems engineer at NASA's Jet Propulsion Laboratory. He joined in late 2003, and worked on the Mars Science Laboratory mission through its successful landing nearly nine years later on August 6, 2012. He was a science planner on the Cassini–Huygens mission, and is involved with the Europa Clipper as a systems engineer.

Ferdowsi gained media fame in August 2012, when he wore an unusual mohawk hairstyle during the Curiosity landing. It unexpectedly became an iconic image of the event with coverage in the news and social media; U.S. President Obama even commented on the popularity of "Mohawk Guy".

He appeared on the sixth season of BattleBots as a sideline reporter and also had a cameo role in the TV film Sharknado 3.

He earned his bachelor's degree in aeronautical and astronautical engineering from the University of Washington, and he went to MIT to get a master's degree in the same subject.
Dr. Anita Sengupta
Senior Vice President
Virgin Hyperloop One
Dr. Anita Sengupta
SVP, Virgin Hyperloop One

---

Dr. Anita Sengupta is Senior Vice President of Engineering Systems at Virgin Hyperloop One, a Los Angelese based tech company that has built the worlds first and only operational hyperloop in Las Vegas.

As the company gears up the production-level design she is leading the team through the next phase of certification and world-wide project implementation. Dr. Sengupta is an aerospace engineer and veteran of the space program, where she worked for NASA's Jet Propulsion Laboratory for over 15 years.

Her NASA engineering projects included her PhD research on developing the ion propulsion system for the Dawn Mission (currently in the main asteroid belt), the supersonic parachute that landed the Curiosity rover on Mars, and the Cold Atom Laboratory an atomic physics facility for the International Space Station.
Naveen Jain
CEO, Moon Express
Board, XPrize
Naveen Jain
CEO & Founder, Moon Express
Board, X-Prize

---

Naveen Jain is an entrepreneur and philanthropist driven to solve the world's biggest challenges through innovation. He is the founder of several successful companies including Moon Express, Viome, Bluedot, TalentWise, Intelius and InfoSpace.

Moon Express is the only company to have permission from the US government to leave earth orbit and land on the moon. They are developing technologies to harvest planetary resources on the moon and developing infrastructure to make humanity a multi-planetary society.

Naveen Jain a trustee of the board at X-Prize. He's also on the board of Singularity University.
Dr. Lisa Dyson
Biotech Pioneer
Dr. Lisa Dyson
CEO, Kiverdi

---

Dr. Lisa Dyson is the CEO of Kiverdi, a next-generation sustainable oil company that converts CO2 and waste carbon gases into customized oils using the power of biotechnology. The technology could be used to create sustainable sources of food from CO2 - that could feed the population as well as astronauts during space missions to distant planets.

Dr. Dyson has conducted research in Bioengineering and Physics, including energy research, at Stanford University, the University of California, Berkeley, Princeton University, the University of California, San Francisco, the Massachusetts Institute of Technology (MIT), and the Lawrence Berkeley National Laboratories. She has a PhD in Physics from MIT, where she conducted research in String Theory, was a Fulbright Scholar at the University of London, where she received an MS in Physics with an emphasis in Quantum Fields and Fundamental Forces, and has degrees in Mathematics and Physics from Brandeis University.
Alex Knapp
Forbes Science Editor
Alex Knapp
Forbes Science Editor

---

At Forbes, Alex writes both online and for the print edition about science and technology issues on such diverse topics as the commercial space industry, quantum computing, law enforcement technology, astronomy and physics, particularly as they pertain to business.

He also manages the Science and Video Games verticals for Forbes' digital platform, recruits writers for those verticals and ensures the weekly production of the Forbes tech podcast, The Premise.

Prior to that, he was a a Social Media Editor at Forbes, where he managed the promotion and curation of site content through social media outlets and helped develop strategy for that promotion.
Andrew Hessel
Genomic Futurist
Andrew Hessel
CEO, Humane Genomics Inc.

---

Andrew Hessel is the CEO of Humane Genomics Inc., a seed-stage company developing virus-based therapies for cancer, starting with dogs. He is a co-founder of the Genome Project-write, the international scientific effort working to engineer large genomes, including the human genome.

From 2012-2017 Andrew was the Distinguished Researcher at Autodesk Life Sciences. He has been Singularity University faculty since 2009. His goal is to help people better understand and use living systems to meet the needs of society.
Ariel Garten
Thought Controlled Computing
Ariel Garten
Co-Founder, InteraXon

---

Ariel Garten is a pioneer in thought controlled computing. She's the co-founder of InteraXon, makers of Muse: the brain sensing headband. Muse is an award-winning, easy-to-use brain fitness tool that helps you do more with your mind. Muse senses your brain activity like a heart monitor senses your heart and sends that information to your phone or tablet – giving you real time feedback of what your brain is doing moment to moment.

Ariel's unique combination of art and science is integral to the design of Muse and to InteraXon's unique approach to brain sensing technology. Ariel and Muse: the brain sensing headband are regularly lauded in global media, including CNN, Forbes, Popular Science, CNET, CNBC, VentureBeat, TechCrunch, Wall Street Journal Tech and many more, for creating what VentureBeat calls "the most important wearable of 2014."
Alexander Rose
The 10,000 Year Clock
Alexander Rose
Executive Director, The Long Now Foundation

---

With help and funding from Amazon Founder Jeff Bezos, Alexander Rose is helping to build a 10,000 year mechanical clock into the side of a mountain.

This 500 foot deep underground clock is a symbol for all of humanity in regards to thinking long term. Designed to tick, chime and advance celestial dials each year, century and millennium.

Alexander shares several design patents on the 10,000 Year Clock with it's creator Danny Hillis, the first prototype of which is in the Science Museum of London.

Alexander also builds combat robots, and has won over six world championship titles appearing in the hit TV show BattleBots. He has also built large pyrotechnic displays for the Burning Man festival, robotic bartenders and other dangerous machines.
Ian Bernstein
Robotics Pioneer
Ian Bernstein
Founder, Misty Robotics
Founder, Sphero

---

Have you seen BB-8 from Star Wars? Ian built that robot and others, which have sold millions worldwide during his time as Co-Founder of Sphero.

Recently, he launched a new company called Misty Robotics - their mission is to put a robot in every home and office.

After getting introduced to robotics at the age of 12, he immediately knew he had found his life-long passion and spent most of his days as a home-schooled student building robots in his bedroom.
Dr. Homayoon Kazerooni
Bionics Pioneer
Dr. Homayoon Kazerooni
Founder & CEO, SuitX and Professor at UC-Berkeley

---

Dr. Kazerooni the founder & CEO of SuitX, a robotics company designing and manufacturing medical and industrial exoskeletons. He's also a Professor in the Mechanical Engineering Department at the University of California, Berkeley and director of the Berkeley Robotics and Human Engineering Laboratory.

As one of the world's leading experts in Robotics Human Augmentation, Dr. Kazerooni conducts research on robotics, control sciences, exoskeletons, human-machine systems and augmentation, bioengineering, mechatronics design, artificial locomotion, intelligent assist devices, and power and propulsion. His research was recognized as the most innovative technology of the year in New York Times Magazine.

Dr. Kazerooni is also the founder and Chief Scientist of Ekso Bionics, which went on to become a publicly-owned company in 2014.
David Schwartz
CTO, Ripple
David Schwartz
CTO, Ripple

---

David Schwartz is Chief Technology Officer at Ripple, which provides one frictionless experience to send money globally using the power of blockchain. David is one of the original architects of the Ripple consensus network.

Prior to joining Ripple, David Schwartz was Chief Technical Officer for WebMaster Incorporated, a Santa Clara software developer. He developed encrypted cloud storage and enterprise messaging systems for organizations like CNN and the National Security Agency (NSA). Known as "JoelKatz" on twitter, he's an influential voice in the digital currency community.
Our world class venue

Orchestra Hall
at
Symphony Center
Sign up & get access to exclusive discounts & news

Schedule
28 Oct

Kickoff Happy Hour

5:30PM-7PM

Rock Bottom Brewery

1 W Grand Ave, Chicago, IL (Map)

---

29 Oct

Conference

8:00AM-4:15PM

Orchestra Hall at Symphony Center

220 S Michigan Ave, Chicago, IL (Map)

Full Conference Schedule

Oct 29 Full Conference Schedule

Note: schedule subject to change

---

8:00AM - Doors open

Grab your badge, enjoy coffee & network with attendees!

9:00AM - Kickoff

9:05AM - 9:30AM

The Future Of Bionics - Building Exoskeletons That Can Enhance Human Potential
Dr. Homayoon Kazerooni - Founder & CEO, SuitX

9:35AM - 10:00AM

The Future Of Digital Currency - Building The Internet Of Value
David Schwartz - CTO, Ripple

10:05AM - 10:35AM

The Future Of Health, AI & Moonshot Thinking
Naveen Jain - Founder & CEO, Viome // X-Prize Board // Founder, Moon Express

10:40AM - 11:05AM

The Future Of Robotics
Ian Bernstein - Founder, Misty Robotics // Founder, Sphero

11:05AM - 11:20AM

Break #1 - Sponsored By Tierpoint

11:25AM - 11:50AM

NASA's upcoming search for life on Europa (Jupiter's Moon)
Bobak Ferdowsi, NASA Jet Propulsion Laboratory



11:55 - 12:25PM

The Future Of Sustainability - converting CO2 to Food sources
Dr. Lisa Dyson, Founder & CEO, Kiverdi


12:25 - 1:15PM // Lunch

1:20 - 1:55PM

Programming Life - The Next Software Revolution
Andrew Hessel, Humane Genomics CEO


2:00 - 2:35PM

The 10,000 Year Clock & Long Term Thinking
Alexander Rose, Managing Director, The Long Now Foundation


2:40 - 3:10PM

Fireside Chat
Alex Knapp - Forbes Science Editor
Ariel Garten - Founder, InteraXon


3:15 - 3:30PM // Break #2

3:35PM - 4:10PM

Hyperloop: The Future Of Transportation
Anita Sengupta - SVP, Virgin Hyperloop One

After Party

4:30PM-7:00PM

Hosted By WeWork

Kinzie Location

20 W Kinzie St, Chicago, IL (Map)
Thanks To Our Sponsors
Do you want to get your name out there? Get in touch
Sign up & get access to exclusive discounts & news